We're in the home stretch of our kitchen renovation or, to be more accurate, kitchen transformation. During this last stage of our update we're installing kitchen cabinets and marble countertops. There are no words to express how much I look forward to having a fully functioning kitchen again. The intriguing challenge of using a toaster oven, microwave oven, mini-refrigerator, and bathroom sink as a kitchen has run its course now and I just want my kitchen back! If you've been to our blog before you've probably seen our other kitchen posts about planning the space, removing the old kitchen, then building a whole new kitchen. Many decisions were made, and some remade, along the way and it has taken an incredible amount of work to get to this point. We're not finished but we're close!
Click here to take a look back at the original kitchen and our design for the new one.
Shopping For Marble Slabs


The time has come to select the countertop material. I've always known that I wanted marble. I know, I know, "It's porous, it's easily stained, you have to be careful with things like red wine, and you must seal the marble regularly and be careful not to bump it with large pans, etc." But, it's so beautiful, and it reminds me of Italy! We're getting marble.
As I wandered the long isles of large, beautiful marble slabs, I became aware of the many types of marble that are available and the significant differences between them. Finally, we selected slabs that had muted color tones and a very visible, subtle grain pattern for our long, u-shaped countertop.
Marking Marble Slabs For Our Kitchen Design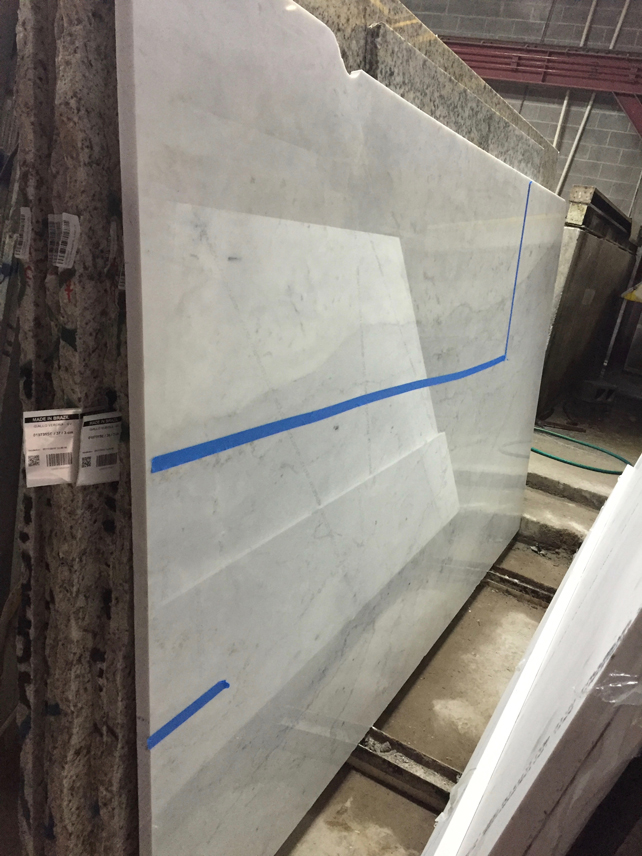 The fabricator marked the marble with tape to feature the best part of the slab and to prevent odd seams that don't blend well. Since marble is a natural product every slab has unique veining and pattern. Whenever possible the goal is to book-match the grain or position it so the tones and pattern do not create an awkward transition.
One final choice was to select a finish for the marble; polished (shiny finish) or honed? We selected honed, which has a matte finish, because it will more easily disguise any acid etching if something like lemon juice splatters on it.
This is great article if you're interested in reading more about marble countertops.
https://www.architecturaldigest.com/story/marble-countertops
Appliances Wait For Installation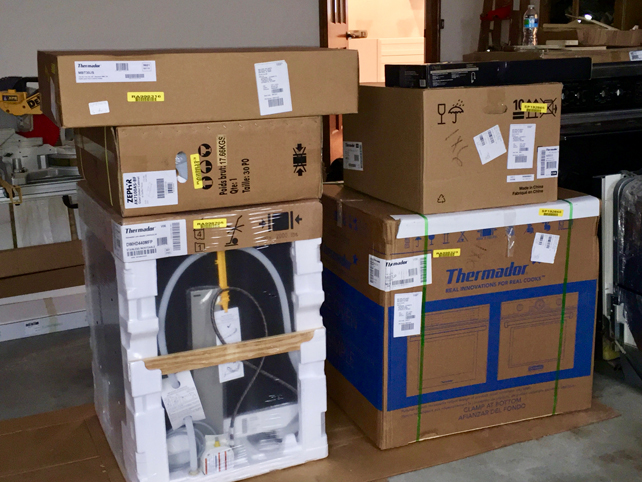 There's so much activity at our house now. It feels like we have reached the last mile of this major construction marathon. The appliances have arrived but they will stay in the garage packed up until the kitchen cabinets and marble countertops are installed.
Cabinet Accessories Are Installed

I was surprised at the amount of customizing and finish work required with pre-built cabinets. Even though we saved money by not buying custom cabinets it still took 3 days of work to install them, add the accessories for specific cabinets, then add wood trim finish. The storage accessories we chose included a lazy susan for a corner cabinet, a blind corner cabinet organizer, and a large divided silverware drawer.
Other jobs going on simultaneously include running electric to the lights mounted underneath the upper cabinets and hanging the light fixtures over the breakfast bar.
Marble Countertops Have Arrived
The space is looking great. The kitchen cabinets are installed and the marble has arrived! The marble is the crown jewel of the kitchen. Did I say how much I love marble? The installation of the marble was smooth and quick. Fortunately, it fits perfectly and the seams are practically unnoticeable. It's beautiful, I knew it would be.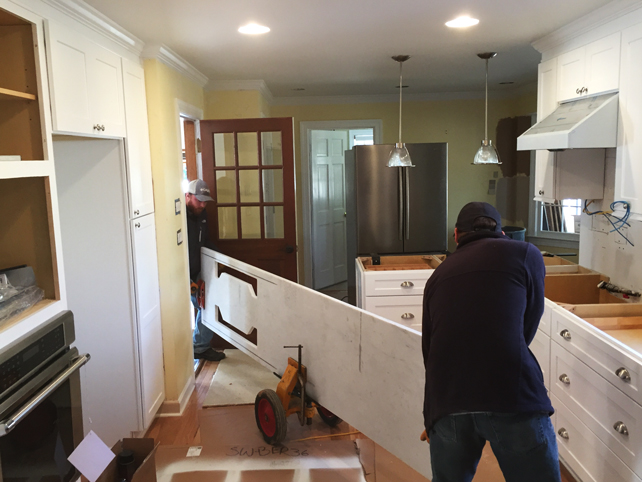 The installer placed the marble for the sink first. Next was the long counter under the window where the cooktop will be placed. Last, they added the marble for the 2 eat at counters, one on each side of the kitchen.
For a look back in time click here to see our demo day post.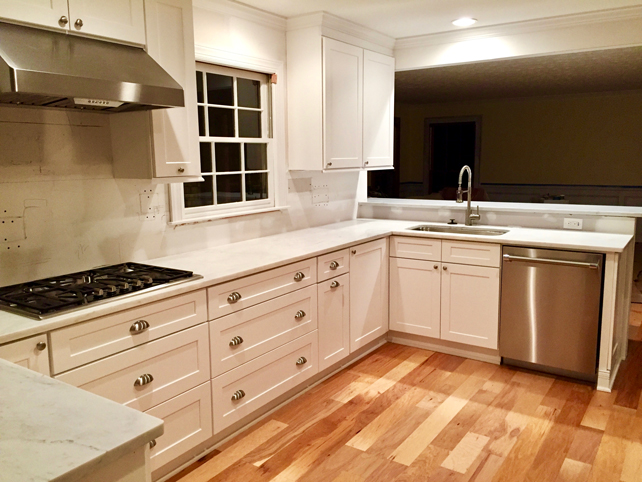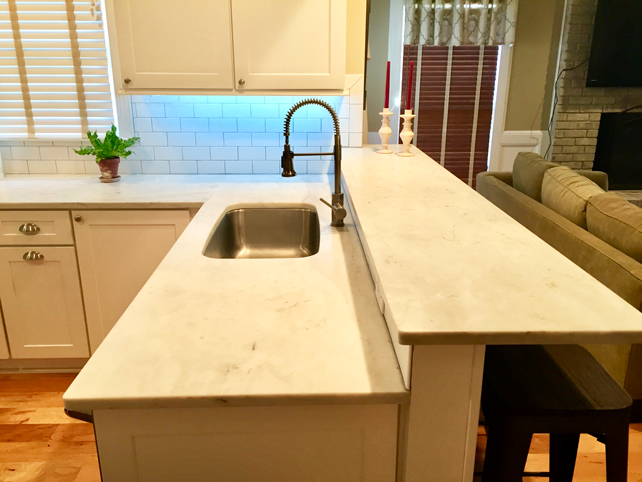 Our kitchen renovation is complete. Now, we need to move into it! It has been a nine-week journey with many people doing a variety of jobs. Until you experience this process, it's hard to imagine the amount of work involved in deconstructing a 35 year old kitchen, then constructing a totally new one. This is the third kitchen in which I have been deeply involved in the remodel and I continue to learn from each one. Stay tuned for one more kitchen post. I'm going to tell you about the top 10 things I love about our new kitchen.