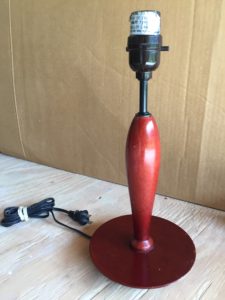 I had a little time on my hands one day while my daughter was getting a haircut so I stopped into Goodwill to look around.  At the time I had just redone a large bookcase and was ready to move books and collectibles back into it.  As I scanned the shelves in the back of the store I noticed a collection of lights. One caught my eye and I thought if I were to refinish that wood lamp it would work well with my bookcase. It was in good condition, except there was no lampshade, but I thought I had one at home that would work. The cashier added tax to the $2.92 price and it was all mine. Gotta love a deal.
Lamp Gets a Quick Strip
When I got home I made sure the shade would fit the lamp…it did and looked great. Now, let's refinish the wood lamp and see what's under all that red stain. I hoped for light colored wood with visible grain. So, I went to get the gel stripper.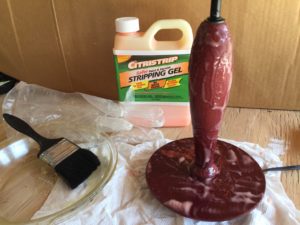 I generously covered the wood base of the lamp with Citrustrip stripping gel and let is set for 10 minutes.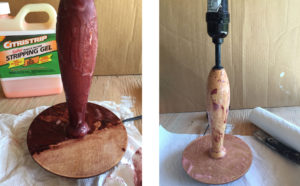 Finishing Touches
The red finish started lifting quickly so I tested a spot by wiping off the gel and found that it was "almost" clean. I put a bit more stripping gel on and waited a few more minutes then it all wiped off. I used a cloth lightly soaked with paint thinner to remove the remaining residue.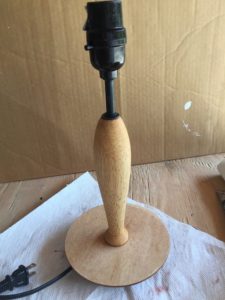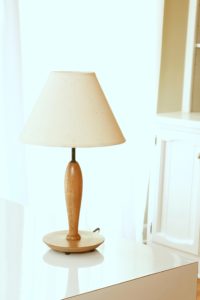 The finished lamp with a coat of clear paste wax.
Next, I lightly sanded the stripped wood with fine grade sandpaper and wiped it clean. Last step, I applied a clear paste wax, with Carnauba wax, and buffed it…and done! Can't beat this for a cheap, quick, and useful project!