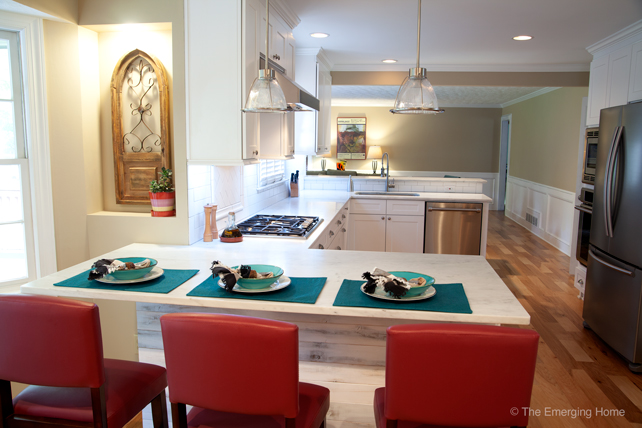 Our kitchen renovation was a comprehensive, long term project that is now, thankfully, over and we couldn't be happier with the way it looks and functions. We have been living with our new kitchen for a while now and there are definitely some features that are becoming our "favorites."
At first the plan was to create a "TOP TEN LIST". A simple ranking of the best new kitchen features, right? Well, I found it very difficult to limit the choices to 10. Then after finally narrowing the list, it was even harder to rank those 10 in priority order. So this post is actually: "TOP 10 FAVORITES FROM A TOTAL KITCHEN RENOVATION IN NO PARTICULAR ORDER"

But first, just a little background… The early stages of planning the new kitchen were a bit intimidating. After all, we have 5 different doors leading to other rooms from the kitchen space, in addition to double doors to access the pantry. That's a lot of doors in one area! We realized we were working with a serious traffic pattern, so we had to make sure the kitchen could function well without interfering with people getting where they needed to go. To see the "before" and "after" floor plans Click here.
Tile Design Behind Cooktop (1)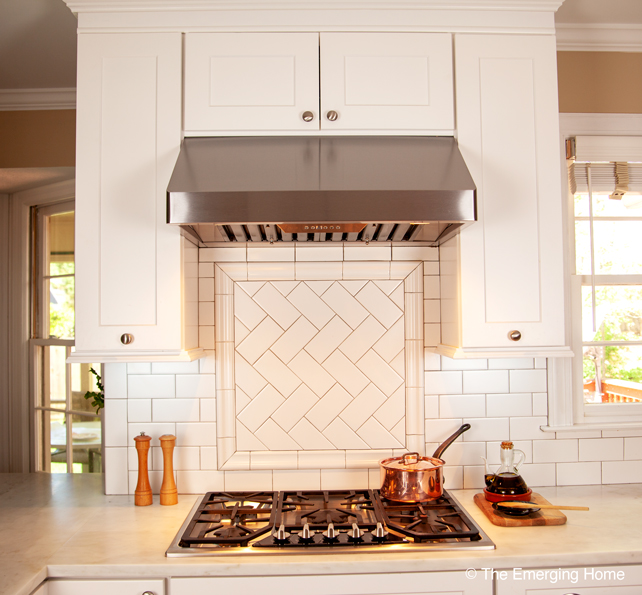 The main wall of the kitchen is 12.5 feet long and has a classic subway tile backsplash. To add interest to this very long wall we had a herringbone pattern installed behind the cooktop. It turned out great and is a perfect design interruption in the long span of subway tile.
Niche For Art (2)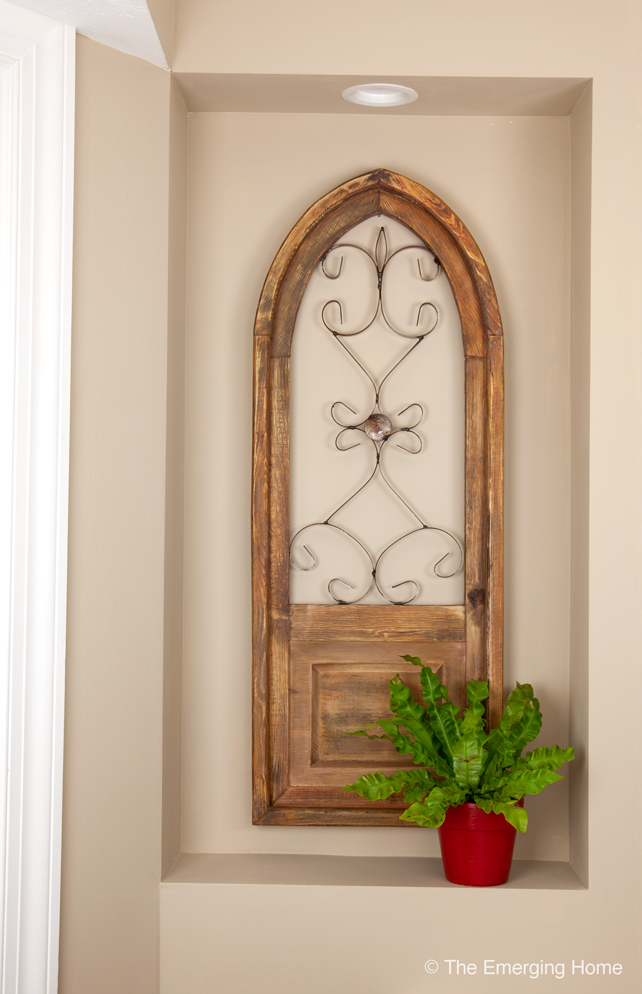 Because there are so many doorways in the kitchen, wall space is practically nonexistent. For that reason, and because if was necessary to extend the wall a few inches to allow room for the cooktop, we built the niche as a decorative touch. A recessed light was added at the top of the niche and is the perfect amount of light to feature artwork or to use as a nightlight.
Clean Backsplash: No Outlets Or Switches (3)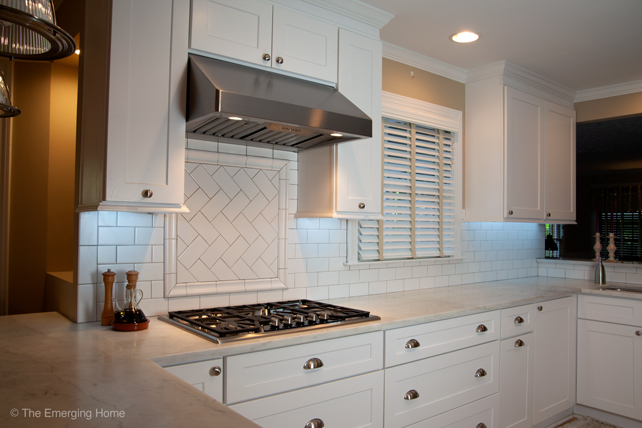 When it came time to install the countertop lighting, I was shocked to see so many black marker drawings on the dry wall indicating where light switches and electric outlets were going to be installed on top of the subway tile backsplash. I was concerned about how all of those boxes placed on top of the subway tile would look. After discussing this with the contractor, it was decided that the light switches and receptacles would be hidden beneath the upper cabinets. My hope was that it would streamline the backsplash without losing any functionality. As it turns out, this is one of the "features" of our kitchen (hidden though it is) that I like the most.
Pantry Cabinet With Pull Out Drawers (4)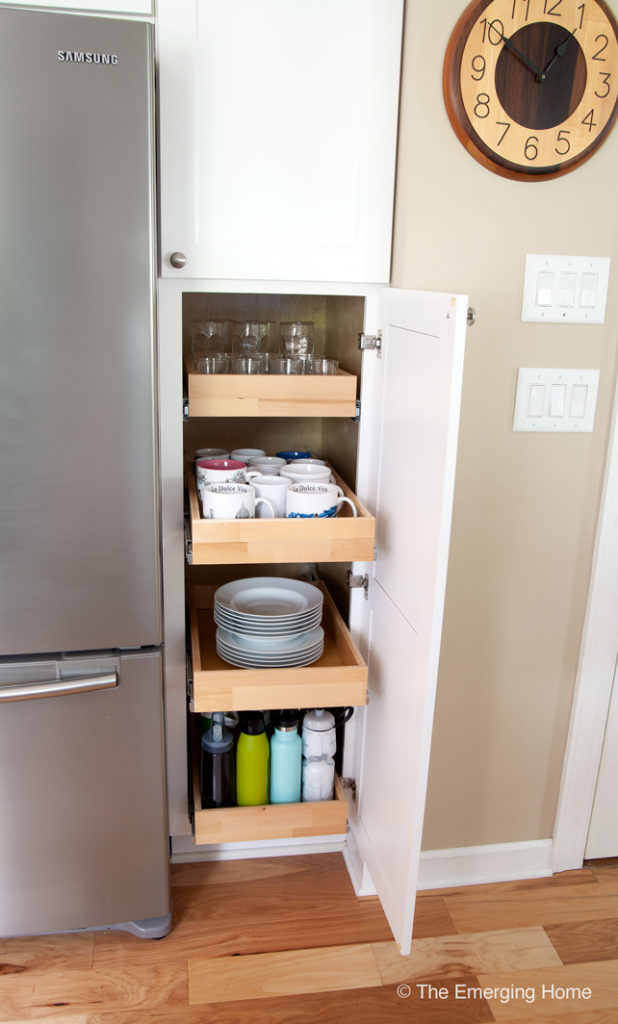 Maybe this seems strange to choose a cabinet for a list of top 10 favorites from a major kitchen renovation, but this cabinet is a great design. It's almost 16 inches wide and fits perfectly beside the refrigerator. It's a great use of a deep space. It has 2 doors and the shelves roll out for easy access. The photo below shows the same cabinet with the door closed.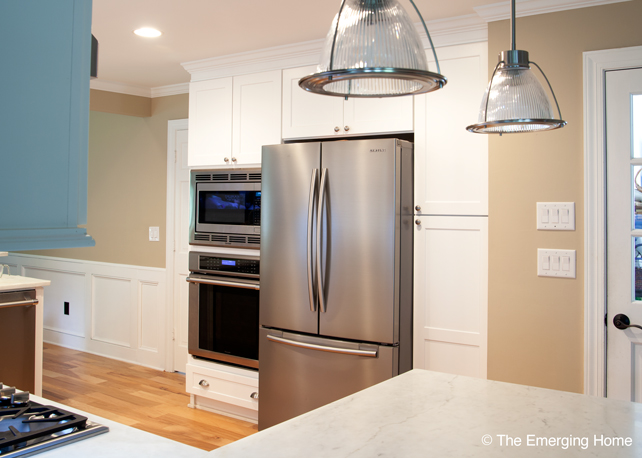 Large One Bowl Stainless Sink & Commercial Style Faucet/Sprayer (5&6)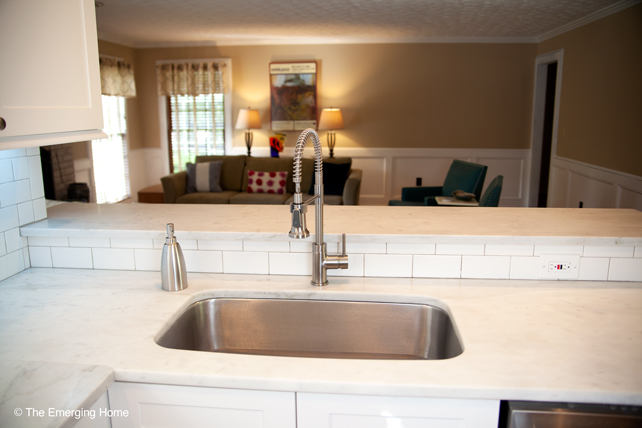 If you cook a lot, you understand that it's a pain when that large roasting pan needs to be soaked and scrubbed and it won't fit in your sink. Our large one bowl sink is working well with our cooking habits. Also, the stainless steel helps to avoid broken dishes better than ceramic sinks. And, stainless cleans up well and doesn't scratch easily or chip. If you cook a lot, the pull down, flexible sprayer really comes in handy. It stores high enough that it's not in the way of using the sink, but neither is it so tall that you have to look through it when looking into the next room. It also makes cleaning the sink so much easier.
No Wall Between Kitchen & Family Room (7)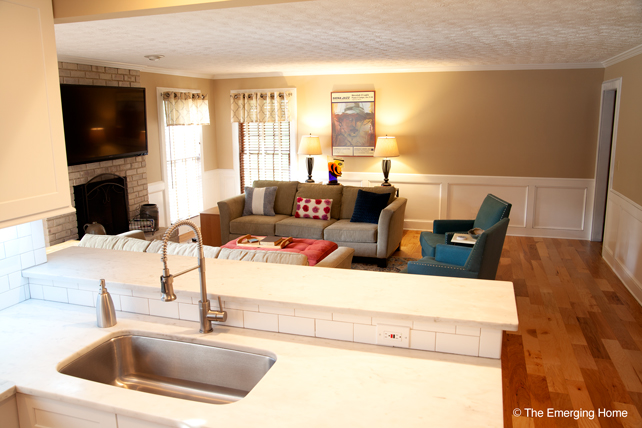 Not only did we remove the wall between the kitchen and family room, we also moved a giant bookcase that was attached to the wall. Now, if I happen to be working in the kitchen, I can still be part of the fun in the family room! To see the post about moving the bookcase: Click here
Seating On Both Sides Of Kitchen (8)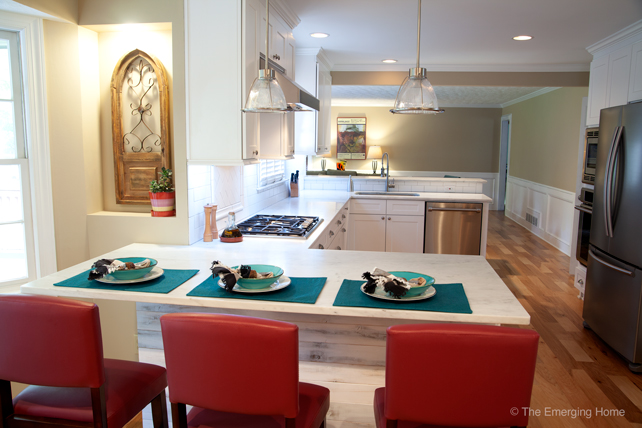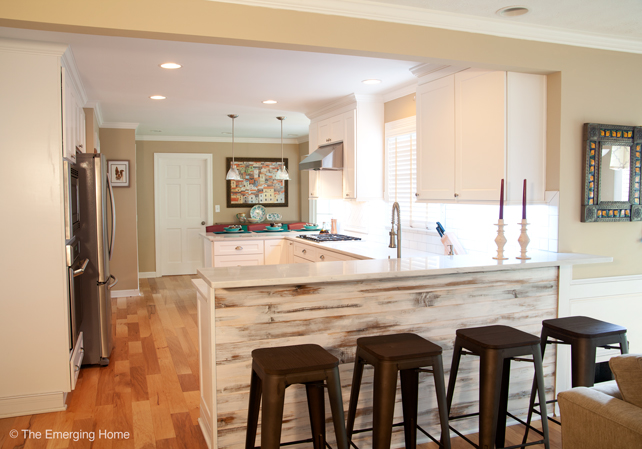 Its great having counter/seating on both sides of kitchen especially whenever we are entertaining friends. We can continue to prepare dinner while visiting with our guests. The counters also serve as the perfect buffet for appetizers during meal prep.
French Door To Screened Porch (9)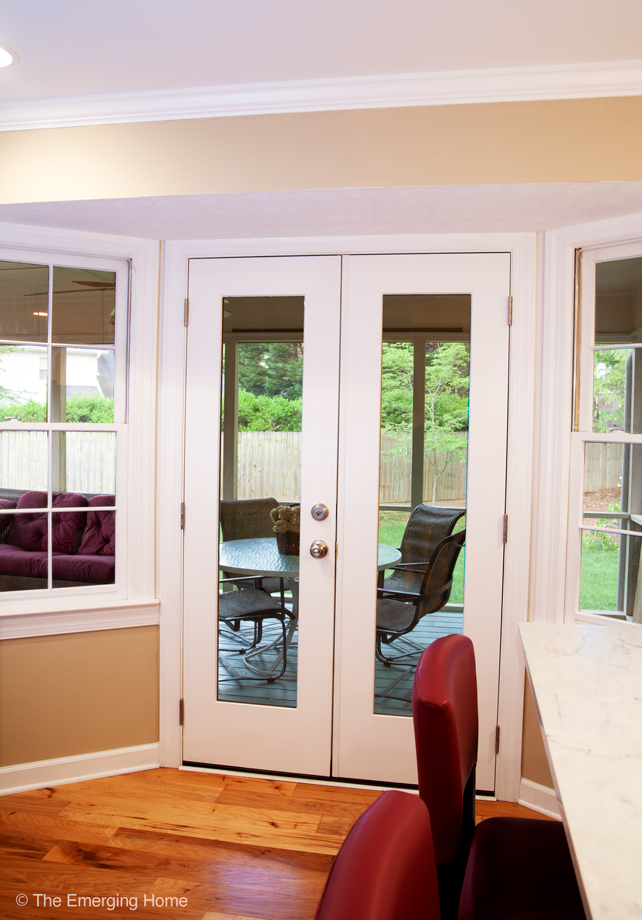 This was one of the biggest changes for us as a family. No more walking through the laundry room to enjoy the porch! I have no idea where that idea came from but it wasn't a good one. Maybe it was an 80's design thing. If you would like to see the "before" photos and the post about installing the French Door Click here.
Marble Countertops (10)
Our #10 and final favorite is the natural marble countertop. And yes, I'm still in love with marble even though I have hands on experience with the fact that it can chip and stain. I've also learned how to use very fine sandpaper to smooth out those chips and stains. But, it's still worth it! You can't beat it for a unique natural look in the kitchen.
Kitchen View From The Family Room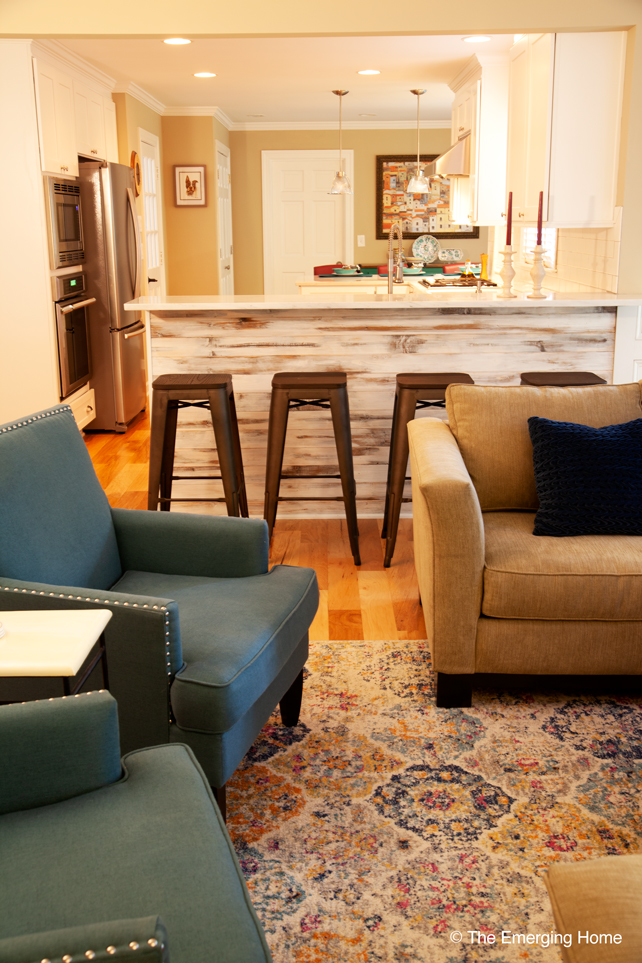 So there are our top 10 favorites from a major kitchen renovation. This parting photo was taken from the family room looking into the new kitchen, which was made possible only because the original wall that stood there was removed. This project required a lot of preplanning as well as some flexibility. Quite a few decisions were made as the construction progressed and some changes were made along the way. Overall, it was a great experience and we're loving the entire space.
Thanks so much for stopping by our Blog. Your comments are always welcome.