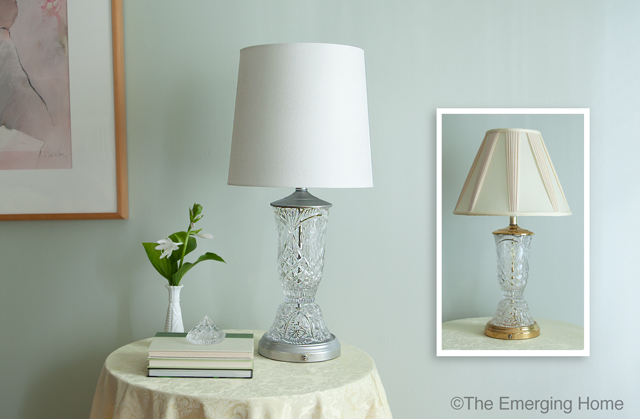 Here's a quick project to update brass and crystal table lamps. We have two good quality, circa 1990 table lamps. They still work perfectly and are in great condition. We especially like the built-in night light, at the bottom of the lamp. They are also the perfect height for our bedside tables. So, instead of buying new lamps, I'm going to make these lamps look good as new!
Do You Believe Crystal is Classic Design Or Out Of Style?
During my research for this project, I confirmed the general design consensus is that crystal lamps are a timeless and classic look. And, it is often the style designers turn to in order to add a bit of sparkle and elegance to a room. The goal with this project is to get that "sparkle and elegance" without the formality.
A Dated Crystal Lamp With Good Bones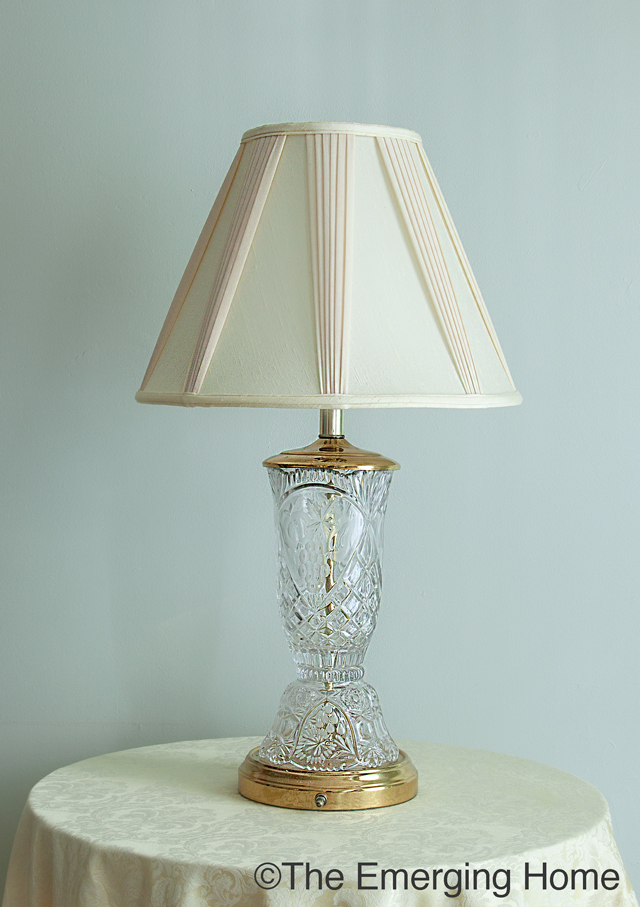 Since the design of this lamp is all about the crystal, I decided to complement that by using silver paint. The next step was to choose a lampshade style. I wanted a change from the heavily pleated, cream-colored lampshade to a simpler one.
Classic Design For White Lampshades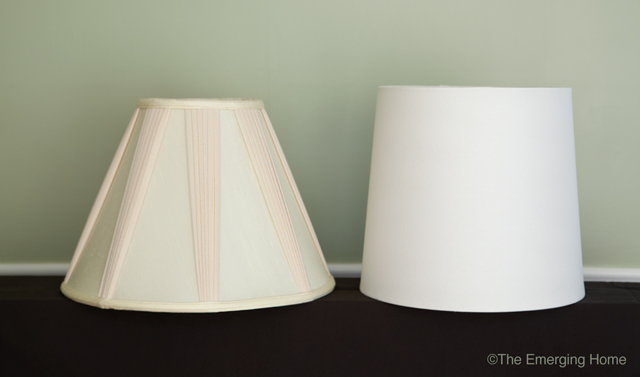 Since the original lampshades are 25 years old, it makes sense that they would need a refresh as well. Triangular cream colored pleats, made of a lightly textured fabric, surrounded the lampshades. They seemed very formal for our home. So, we replaced them with simple white, drum shaped lampshades that blend better with the new silver color of the lamp.
Keep Track Of All Those Lamp Parts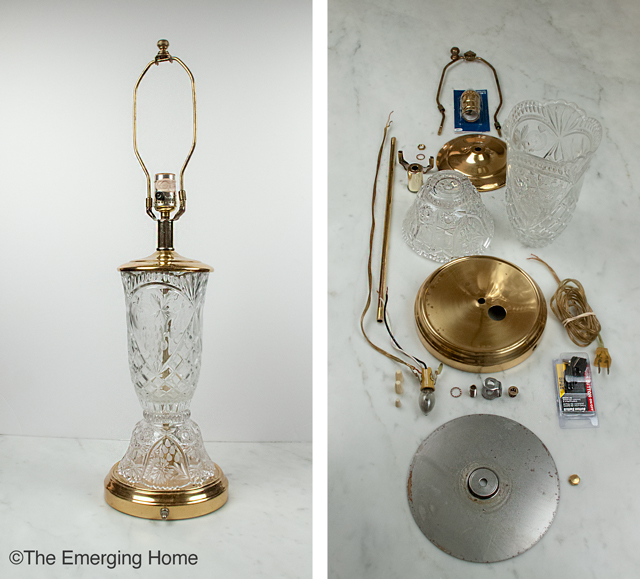 The obvious first step in this project is to take the lamps apart piece by piece. I was a bit surprised at the number of the little parts in the lamps. I made sure to line the pieces up in the order I had disassembled them. Then, I took a photo of them.…just to make sure I could put it back together!
Sanding Brass Lamp Parts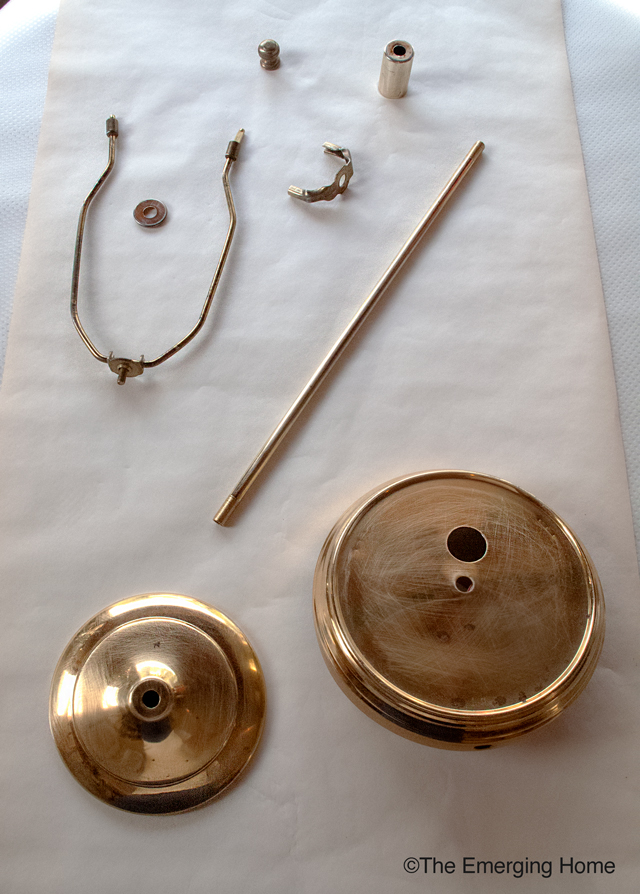 Next, I lightly sanded all the parts as well as I could with 220 grit sandpaper to prepare the surface for painting. Then, I laid them out for spray painting.
Painting And Putting The Lamp Back Together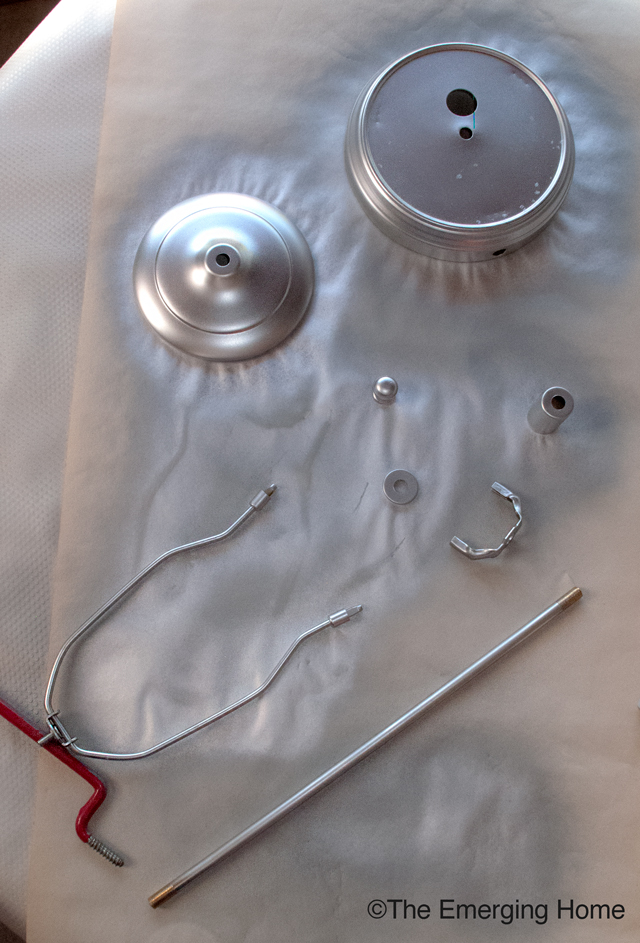 Using a can of fast drying, metallic finish paint, I sprayed the first coat of paint on all of the brass lamp parts. After 2-3 hours I applied a second coat and let it dry overnight. Now it's time to put it all back together.
The photo of all the lamp pieces laid out in order really came in handy when it was time to put the lamp back together. Once we reassembled the lamps, we added new light bulbs in both the main light and night light. Now, they won't need new bulbs anytime soon.
The Updated Brass And Crystal Table Lamp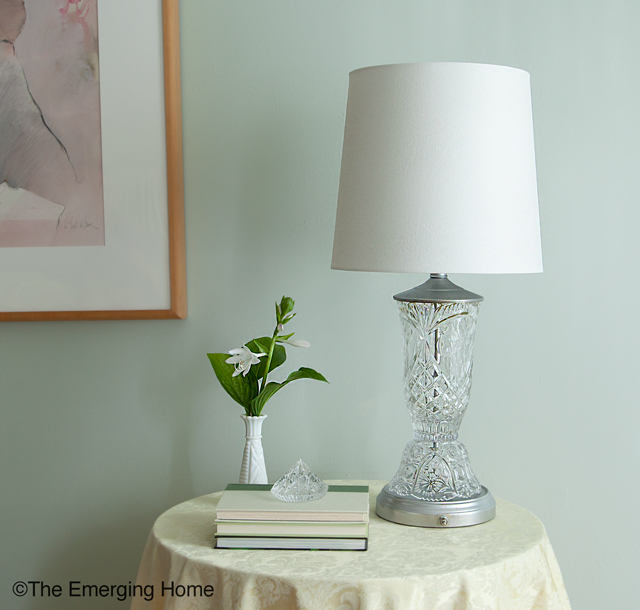 We've finished updating the brass and crystal table lamps and we love them. They look great and work perfectly for us. We're also feeling good about the money we saved by not buying new lamps!
Your comments and suggestions are always welcome.