Our awning looks like it has been deep inside a damp forest for years. The truth is, we live in a suburban area of the humid Southeastern U.S. Apparently, it's the ideal environment for growing lichen and moss. We are planning to do some updates in this patio area soon. But first, we'll start by cleaning our lichen and moss covered canvas awning. The growth was so thick that before I could scrub it with cleaner, I needed to scrape off as much of the lichen and moss growth as possible. The big question in my mind is whether or not the awning will clean up successfully, or will it need replacing?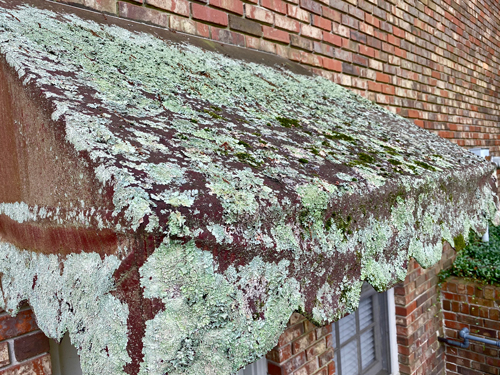 What Exactly Are These Growths?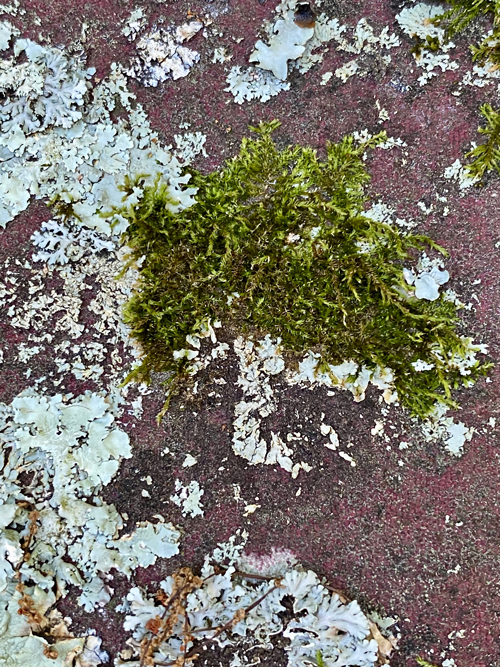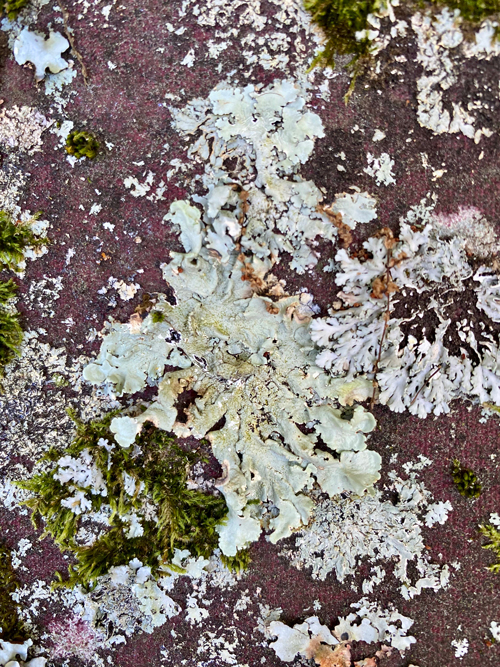 Our first update for this area is to clean the awning. However, before I started the dirty job of removing these delicate yet well-attached growths from the awning, I wanted to know more about the "organism" that was thriving there. After reviewing some university and federal parks-sourced articles about Lichen/Moss growth, I felt comfortable attempting to remove it.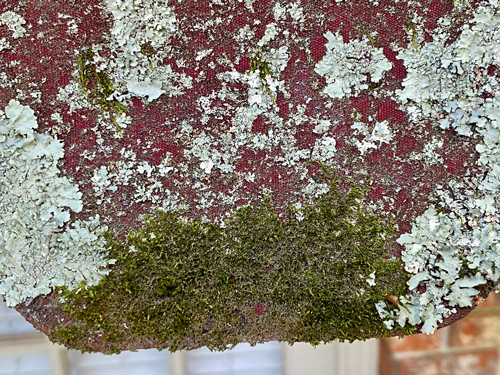 Interestingly enough, during my research, I did not find photos showing the same degree of dense lichen and moss growth that is on our awning! I think we may have a record here!
A Little About Lichens
Lichens are found all over the world
No two lichens are alike!
Lichens are a complex life form of two organisms: a fungus and an alga, but the fungus is dominant
Fungi cannot produce their own food so they rely on other organisms for nutrition
Lichens convert carbon dioxide to oxygen and absorb pollutants that are in the area
Lichens have no roots, stems or leaves
If you're interested in a bit more information about lichen, here's a very good 5 minute video.
Transplanting Lichens – Is That Possible?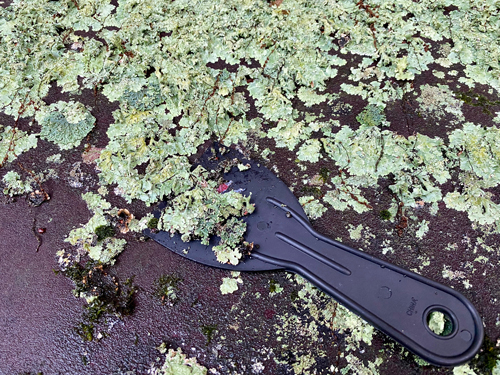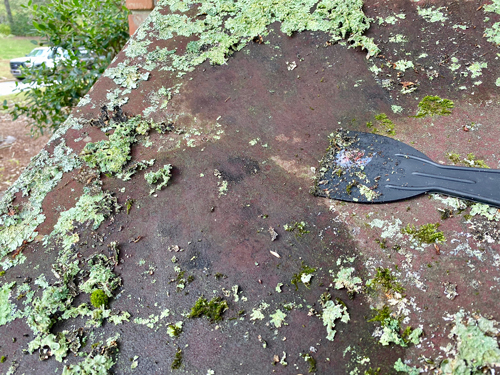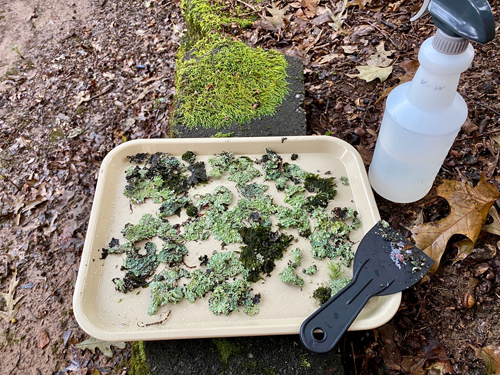 Before scraping off and discarding this beautiful dense lichen growth, I wondered if it was possible to move it someplace where it would survive and continue to grow. I decided to give it a try, and move significant patches of it to the flagstone patio in our woodland garden. Interestingly enough, a couple of days after transplanting the lichens, the patches were settling into their new location and looked healthy so far.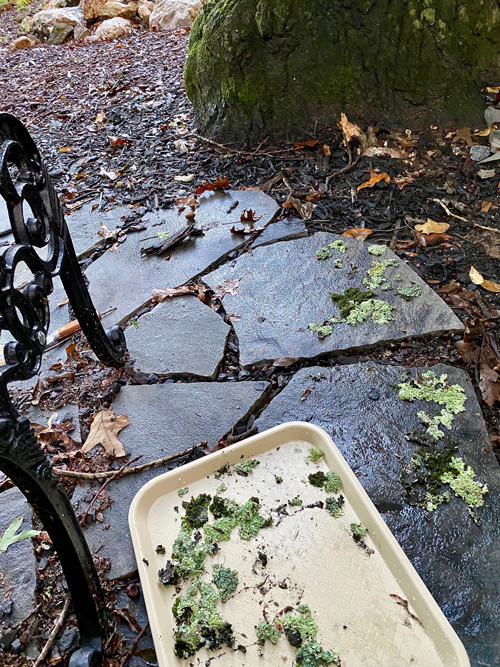 Every day or two I continued to lightly spray the transplants with a fine mist of water from our rain barrel. After 2 weeks they are still healthy looking and the moss is attached fairly well to the flagstone. The lichen is very lightly attached in a few places so far.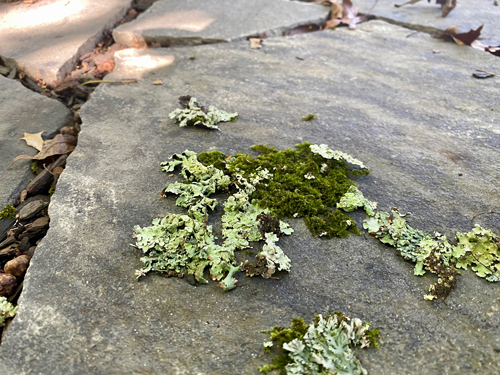 First Step Is To Scrape The Entire Awning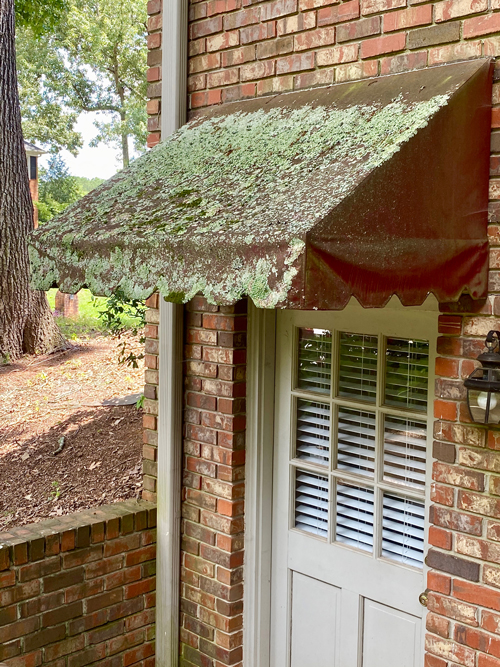 Now that the Lichen moving experiment is complete, its time to get serious about removing those that remain. Using a plastic putty knife, and of course a mask, I scraped the entire area of the awning. The scalloped edge was a bit tricky as it was difficult to get the scraper under the lichen since the edge of the canvas was not connected to the frame. The one pleasant surprise of this project was that the underside of the awning was free of any lichen growth. That area would have been a lot trickier to access for cleaning than the top of the canvas awning.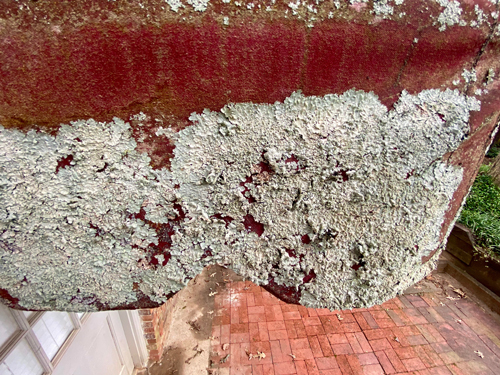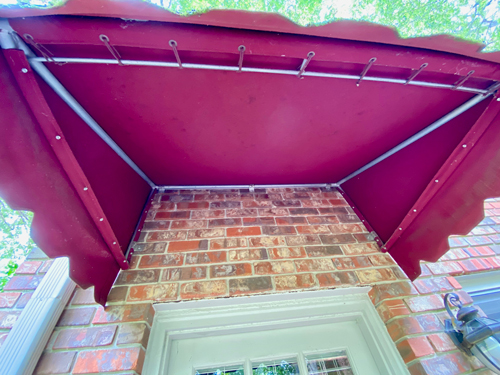 "DeLichening" This Awning Was Labor Intense!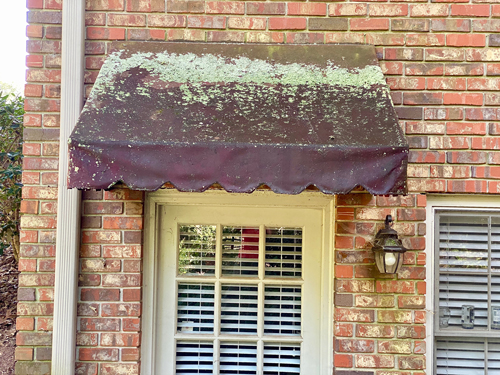 Cleaning the lichen and moss covered canvas awning involved a lot of scraping and scrubbing. I chose to use a non-chlorine granular cleaner (no bleach) just to make sure I didn't damage the awning color. I removed as much of the lichen concentration as possible by scraping and scraping… Then, I brushed the cleaner into the area and let it soak for 15 minutes or so before rinsing it off. This process was repeated several times in order to lighten the dark stained areas.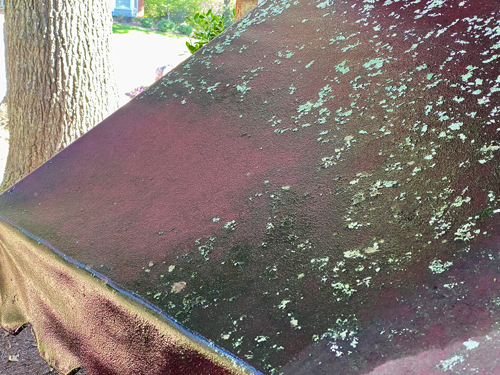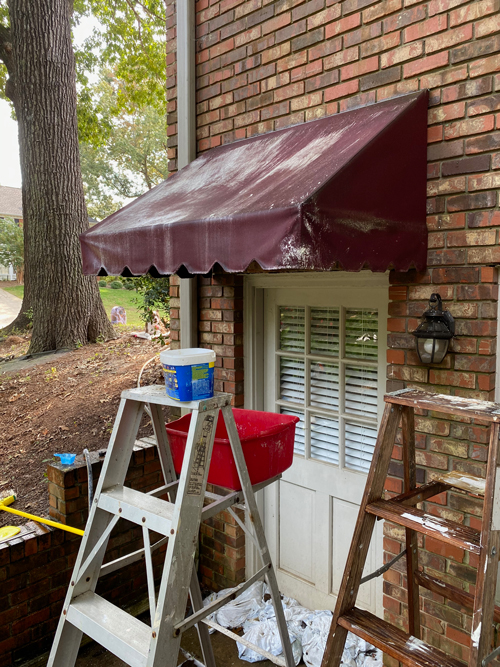 One Cleaning Job Leads To Another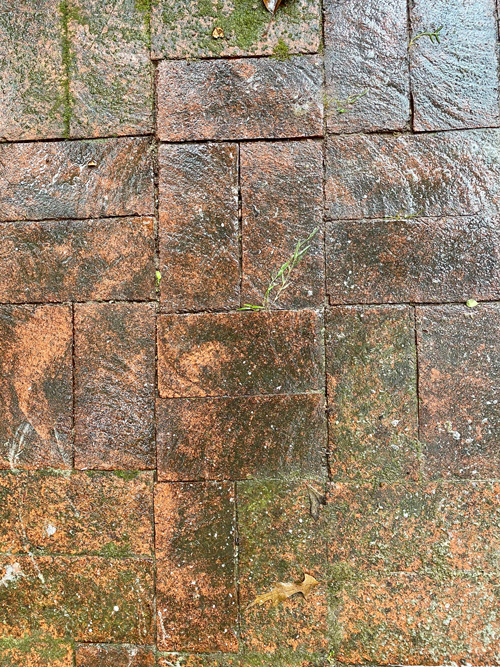 This patio that adjoins the lower level entrance is constructed of bricks surrounded by concrete, and both look nasty. I'm not sure exactly what is making its home here, possibilities include leaf decay, mold, mildew, moss, etc. Whatever it is, it needs to go. Next step, unfortunately, is more scrubbing, this time with a bleach-based cleaner.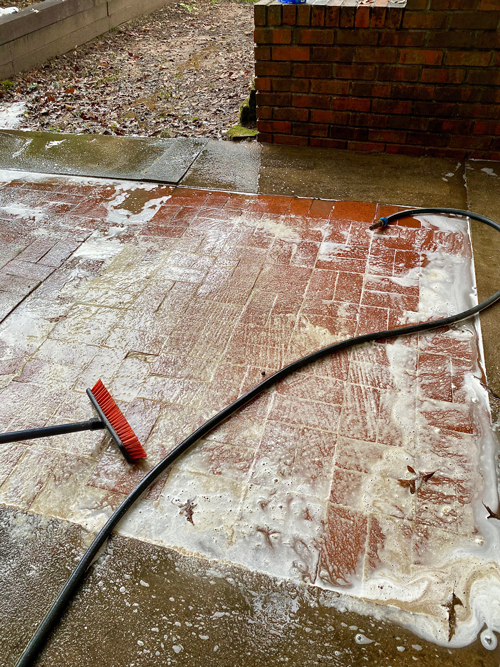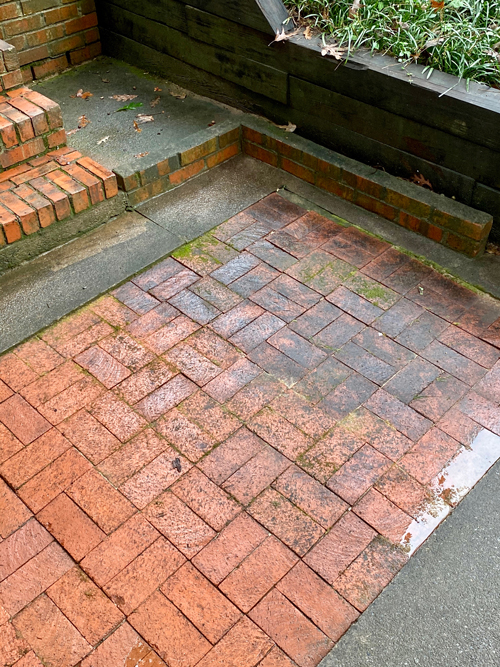 There is nothing like having a very visible difference to justify an exhausting job. There's more work to do here, but you can see the effort is paying off.
Not Perfect, But So Much Better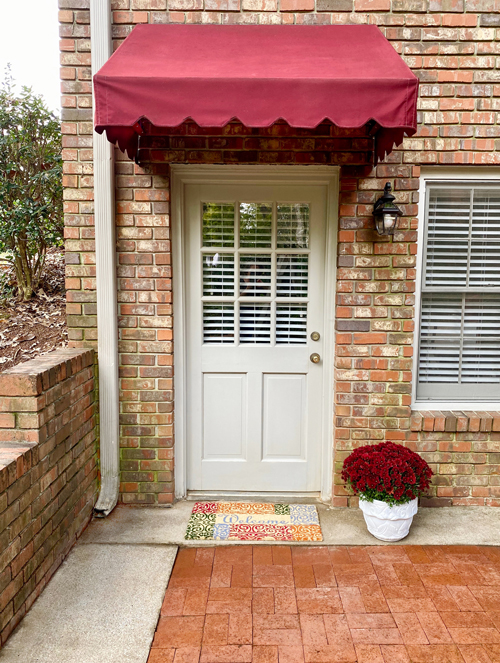 It seems that I always underestimate the amount of physical labor required to get a result I want. Ditto on this one, climbing up and down the ladders, incessant scrubbing, and dragging equipment around, was at the very least an excellent, and lengthy workout, albeit exhausting. We are pleased with the result and plan to enjoy this patio more frequently. The next project for this area is to build a landscaped walkway from this patio out to our neighborhood street. Thanks for continuing to visit our blog. We love having you here and value your comments and helpful feedback.