This old stool has been with me for many years and even moved with me to three different cities. When it passed to me it was showing its age. However, the vinyl was intact and the legs were in good condition, so I stored it away for future attention. Recently, while looking in storage for something else, my eye caught sight of this stool. Since I've always been easily distracted, I paused to take a closer look. Then, of course, I left the room with more than I went in there for. I researched the best way to give it a refresh and was surprised to learn that it's a 1960s vintage Mid-century Danish Modern, Babcock Phillips Stool.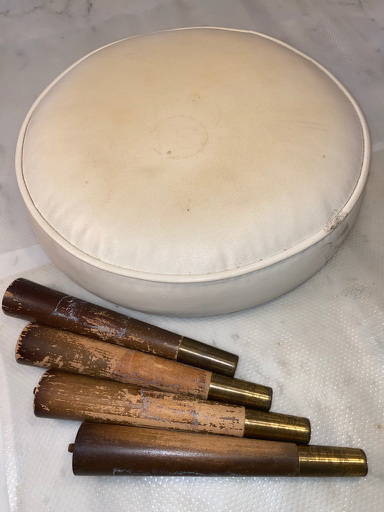 The vinyl is in good shape but has two circular stains on the top of the cushion. It also has dried residue, possibly from old adhesive tape, on one side. The tapered solid wood legs are shedding dried flakes of original brown stain, and the brass caps on the legs are very tarnished. Other than that, it's actually in pretty good shape. Let's see if it will clean up and shine some 1960s light on the 21st Century!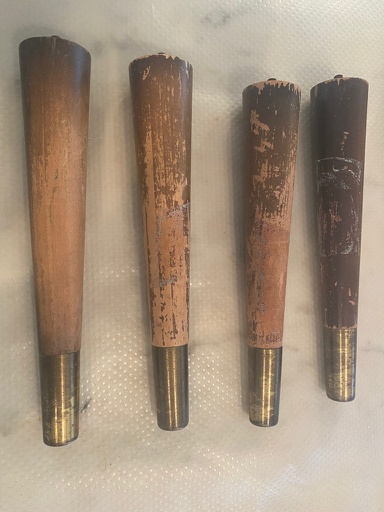 Removing Flaking Stain From A 1960's Classic Stool
I started the makeover by stripping the dry, flaking stain off the legs using a soybean gel stripper. Once the stripper was dry, I cleaned it off with a light soap and water solution. When the legs were dry to the touch, I sanded the legs smooth, careful not to scratch the brass caps. (The caps were attached to the tapered wood legs with small, rounded nails driven into the center of the brass toecaps. I was afraid it would damage the brass cap or break the small nail if I pulled it off the leg.)
After removing the stain from the wood legs, I could see the natural range of color variations from medium-dark to light. I really I liked the natural tone variations in the wood, so instead of staining the wood, I simply applied a clear paste wax, let it dry, buffed it well and considered it done.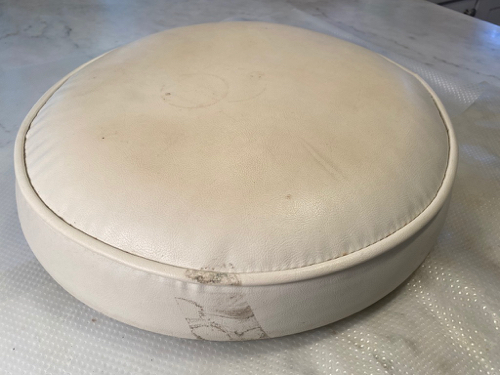 Cleaning Vintage Vinyl Safely
It was important to me that the process of cleaning this old vinyl be effective yet produce a consistent tone across the stool. Since there were two types of stains, I was not sure I could remove both without damaging the old vinyl. I began scrubbing the vinyl with baking soda and water to clean the entire cushion first.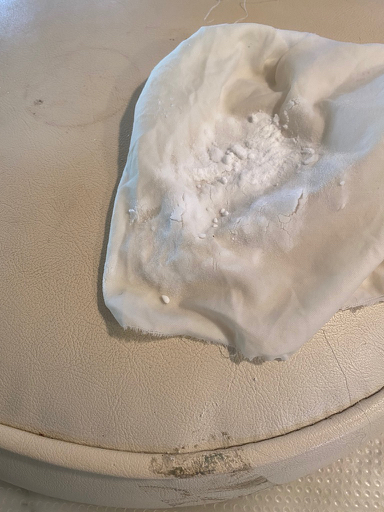 Then I added Murphy's Oil Soap to the baking soda and water solution to focus on the circular stains and the heavier, sticky mark. I started working gently on the discolored areas, but it was clear, it would require much more elbow grease! I was a bit fearful that if I scrubbed vigorously, I would damage the old vinyl. But I keep at it, adding more baking soda as needed, and ultimately the sticky surface, and all but a very faint circular stain disappeared. Based on how vigorously I had scrubbed, I'd say this mid-century Babcock Phillips stool had to be pretty good quality vinyl to start.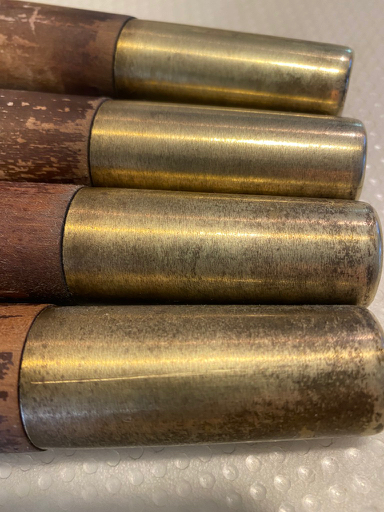 The Challenge Of Polishing Mid-Century Brass
I'd love to say the 60-plus-year old brass caps at the bottom of each leg looked like new, but that's not entirely true. Here again, this was a lot of work, but the polishing effort did not produce quite the shiny product I had hoped. The caps still show some soft brown tarnish and etched areas as well as some scratches. Maybe more polishing would have helped, but my hands couldn't take it. Who knows, perhaps a polishing tool would make them perfect, but I'm good with the way they are. Showing the best of its age adds character!
For those readers who have refreshed Babcock Phillips stools, I'd love to see how you are blending them in with more current styles. What type of chairs and furnishings do you feel it fits with best. And, as always, thanks so much for your comments and for coming by The Emerging Home Blog!