I always feel sad when I see a deteriorating or dying tree. But it's especially sad when it's in your own backyard. We have enjoyed this Oak tree since we moved here 12 years ago. Recently, we noticed an increasing number of dead limbs lying on the ground and several large, lower branches losing their leaves. After consulting a licensed arborist, we were advised on removing the large dying Oak tree as it would likely become a hazard to those near it. He also pointed out to us that Ambrosia beetles had moved into the stressed tree. We reluctantly contacted a professional service to remove our Oak tree. This was a priority project as the tree overhung adjacent property and we did not want to risk anyone being hurt from falling branches.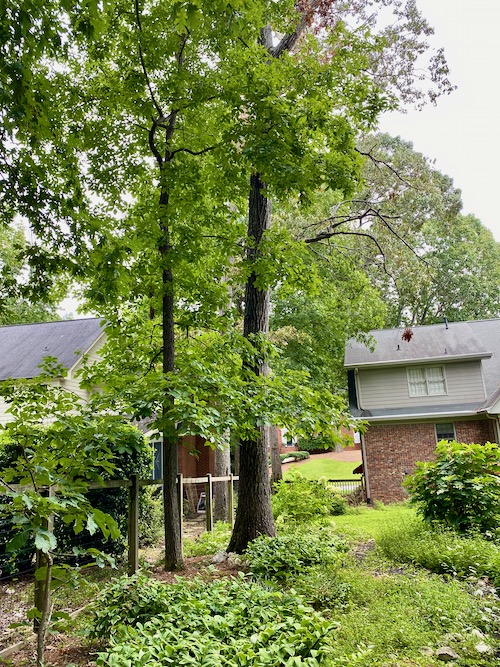 I was curious as to why we lost this beautiful tree that was a key shade-maker for our woodland garden. Trees require a healthy environment above ground as well as below. Tree roots can extend three times beyond the spread of their branches! And the roots require oxygen to survive. When the tree was young, this area was a wide-open wooded area without any housing developments or businesses nearby. It had plenty of oxygen to grow strong…and it did. That's all different now. Since the mid-1980's this tree has been surviving between 2 large homes. Both have basements, surrounding concrete walkways, driveways, flagstone patios, sidewalks, retaining walls, etc. It's an awesome neighborhood but every year we lose more trees. Just a few years ago a very old cherry tree had fallen in this same area.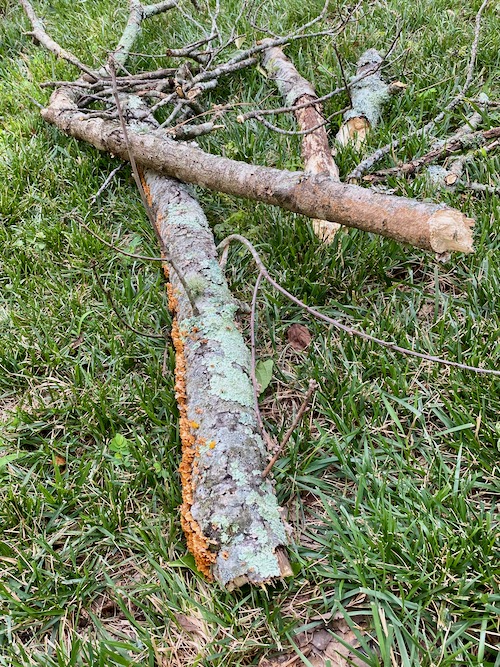 Lichen and Fungi Thrived on Dead Fallen Branches
The dead branch that fell has lots of orange/brown fungi growing on it. Fungi are complex for a novice to identify, so I'm 100% guessing that this is "Chicken of the Woods." The green, bumpy textured growth on the right side of the branch appears to be lichen. Since there are approximately 13,000 species of lichens living around the world, I'm certainly not going to try and identify this one!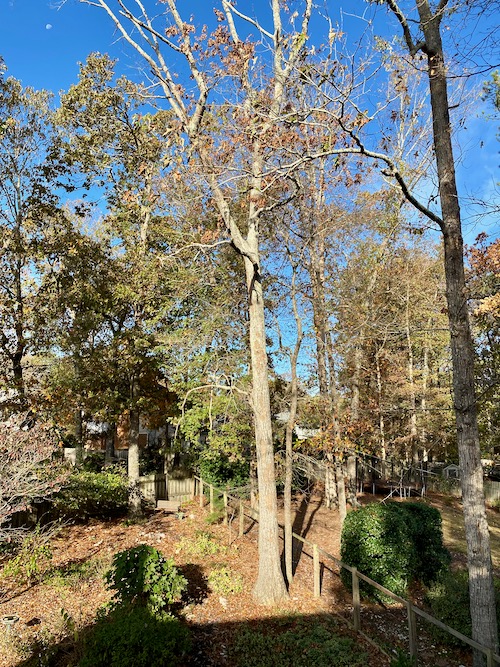 Our Oak Tree Just Before Removal
We took this photo from an upstairs window in order to show how important this oak tree is to providing the shade in our woodland garden. A smaller tree of the same Oak variety grows just behind the dead tree that will be removed. We're depending on it to provide shade until other, newly planted trees mature in our woodland garden.
The Process of Removing a Large Dying Oak Tree Begins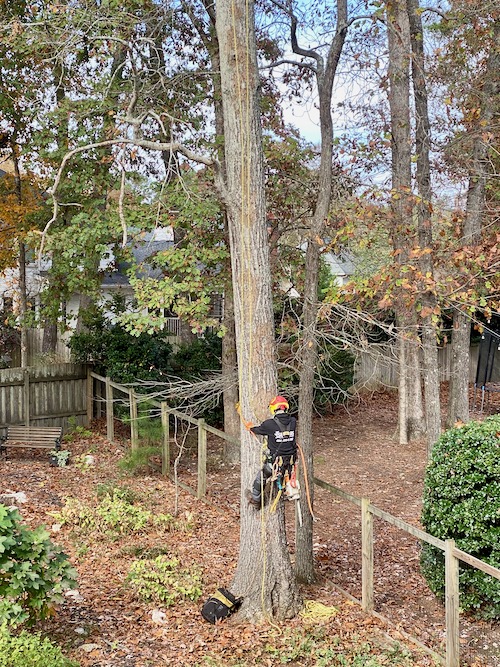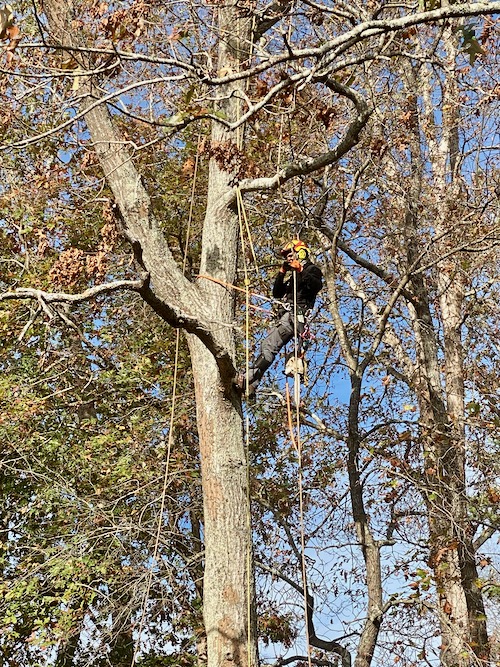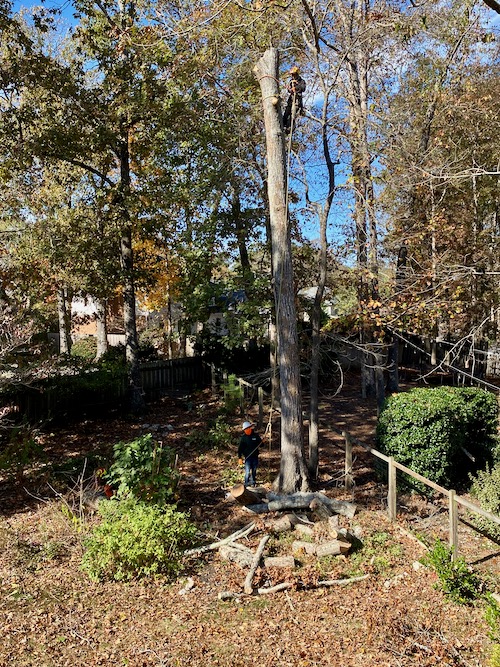 Oak Tree is On The Ground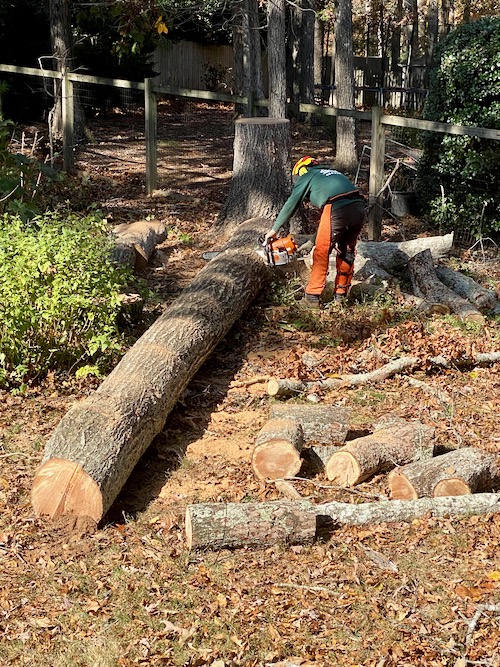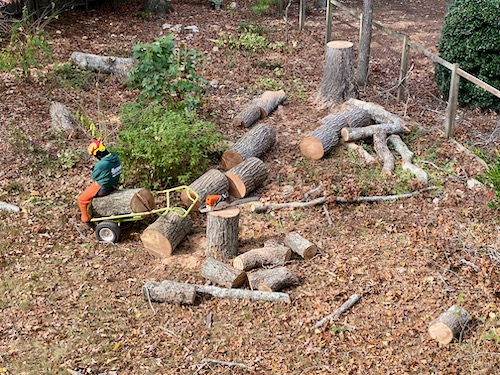 It took several hours to cut the tree to the ground. Then, several more hours to transport branches to the driveway to shred. The crew gathered the largest sections of the tree and placed them in the driveway for pickup.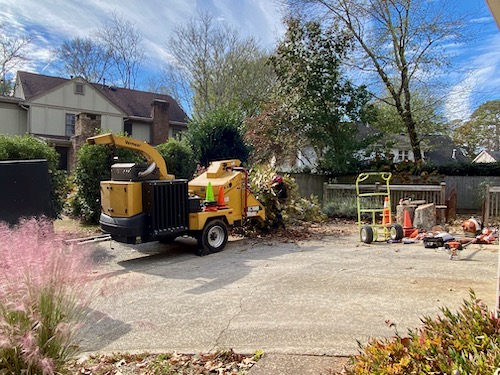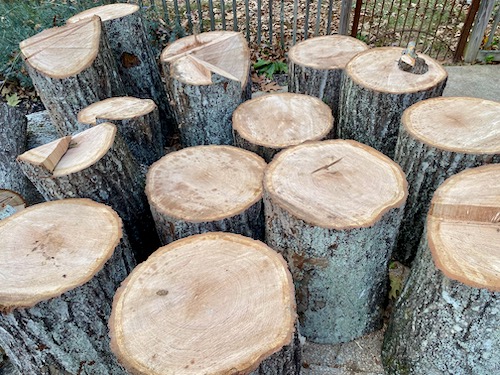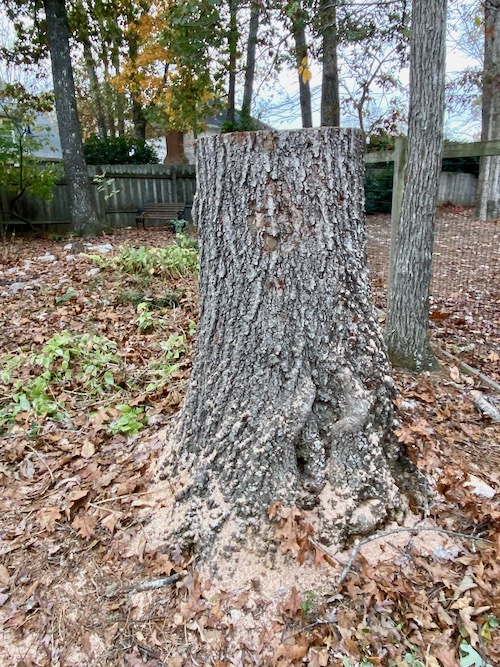 Next Step: Creative Use of the Stump!
Our previously beautiful oak tree, that helped our garden thrive, is now a stump. It's sad losing any of our trees, but we have learned what to look for and that there are remedies for some tree ailments if you identify and treat them early. Whenever possible there are also some very good reasons to leave a tree where it is to die and completely decay. That would have been our choice if it had been in a much more remote, rarely inhabited area. We did learn, from a Trees Charlotte article, that our tree lived approximately 85 years based on the diameter of our tree. We plan to make something beautiful and functional out of the stump. Perhaps something artistic or a chair for relaxing in while we continue to enjoy our woodland garden.