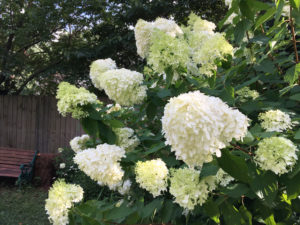 I don't believe its possible to have too many hydrangeas. I especially love drying Endless Summer and Limelight Hydrangeas. Therefore, there are quite of few of them planted around our front and back yard. They're a versatile flower that can be enjoyed anytime since they dry well, last a long time, and look great in flower arrangements, wreaths, centerpieces, and wherever else your creativity takes you.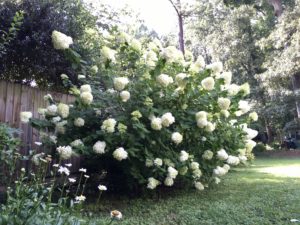 Endless Summer Blushing Bride Hydrangea 
When planting these 2 hydrangeas a couple of years ago I made the classic mistake of placing them too close together. They seemed so little at that point! Consequently, this huge source of blooms is actually 2 plants! Once the plants are dormant, which here in Atlanta will be late fall after the first frost, I plan to cut one of them back just enough to safely move it where it will have more space to produce those beautiful blooms.
An interesting point about this Blushing Bride Hydrangea is that it will bloom on old as well as new wood. So, it's not necessary to do a serious pruning unless you need to manage the size of the plant.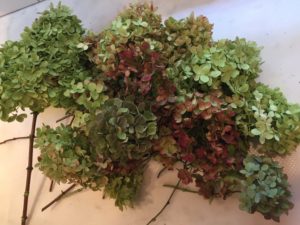 Hydrangea paniculata Limelight
In early September I started cutting blooms from a couple of plants that had developed some pinkish-red color on them but I delayed cutting more to see if deeper color would develop on the remaining flowers. This red color that develops is a characteristic of Limelight and is not affected by soil pH.

After a few more weeks the huge Blushing Bride blooms were ready to cut. You can see in the photo that brown areas of the blooms were beginning to appear. I waited as long as I could in order to get as much of the "blushing red color" as possible. In our case it is red due to pH of our soil. Next year I'll work on getting the soil more alkaline with the hope that the hydrangeas will "blush" a bit more noticeably.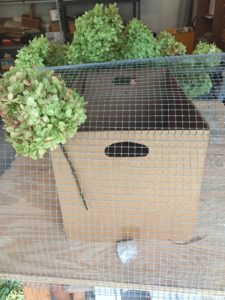 The Drying Process
For the drying process, I put a piece of small gauge fencing (leftover from another project), on top of a box and placed individual stems of the hydrangea blooms through the wire leaving a little space between them. This allows them to dry evenly.

Since fresh cut blooms dry very quickly, I allow them to dominate our garage space for a few days. After they are completely dry I can display them, store them, or give them away.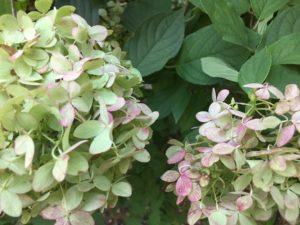 Endless Summer Is Living Up To Its Name
Even after cutting so many blooms from Endless Summer Blushing Bride they continue to surprise with new blooms that have even more color! They are not as big as the earlier blooms already cut but they have that beautiful red blush from which it got its name.
I'm already looking forward to next fall!!