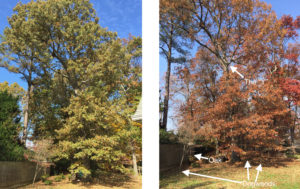 This post and photo is updated. Please see below.
We're going to trim an oak tree in our back yard. Actually, the technical term is called "crown lifting or crown raising." We love this tree but the lower branches are odd looking and provide too much shade for the flowering dogwood trees at the base. For those of us who take our trees seriously, the decision to raise the canopy was a tough one. We read the caveats regarding cutting too many branches beneath the canopy, and consulted a certified arborist before proceeding. In the end, it seemed like a reasonable gamble that the oak would be fine and the 4 trees below would thrive.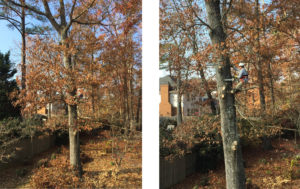 Removing Small Lower Branches
The branches that were removed were significantly smaller than those above the "Y" of the tree, indicating that an earlier trim of this nature may have taken place at some time. Our hope is that with increased sunlight reaching the ground the 3 Dogwoods and 1 Oak beneath will thrive.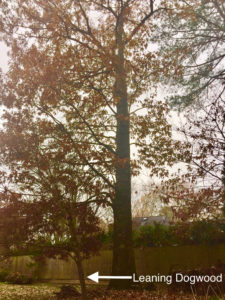 You can see in the photo that one of the dogwoods under the tree was actually leaning over to catch a few rays!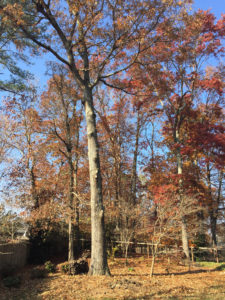 Tall, Skinny And A Little Scary
I guess we have to keep in mind that it's December now in the South and more than half of the leaves on this tree have already fallen. Poor thing looks pretty tall and bald right now with those smaller branches gone but I'm confident (or really hoping) next year when the leaves are out again it will blend in well with the many other trees nearby. I'll let you know!
Update: September 23, 2018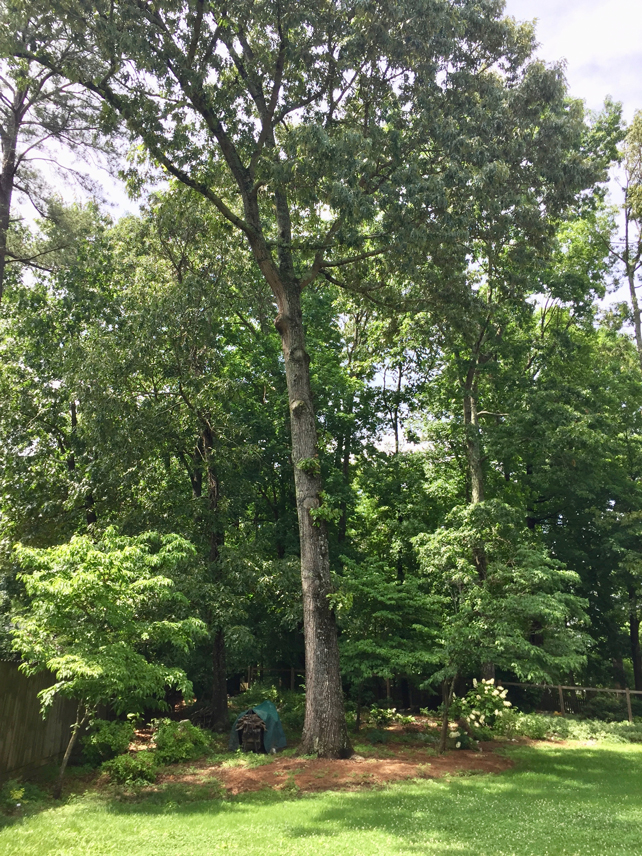 It has been 6 months since our tall scraggly oak tree was severely trimmed. All our fears and trepidations have been relieved! The tree is healthy and thriving as are the trees beneath it. I have continued to add to the garden below with various woodland plants for the shaded area and sun-loving perennials for the bright garden edges. For me, this garden will always be a frequently changing and enjoyable work in progress.