Our fireplace is definitely stuck in the 1980's. Now that the adjoining kitchen has been renovated and the wall between the two spaces has been removed, the fireplace looks even worse than before.  We also wanted to have one focal point for TV and fireplace, rather then the two walls they currently occupy. First step: whitewash the brick fireplace so it doesn't look like a dinosaur in the newly opened space.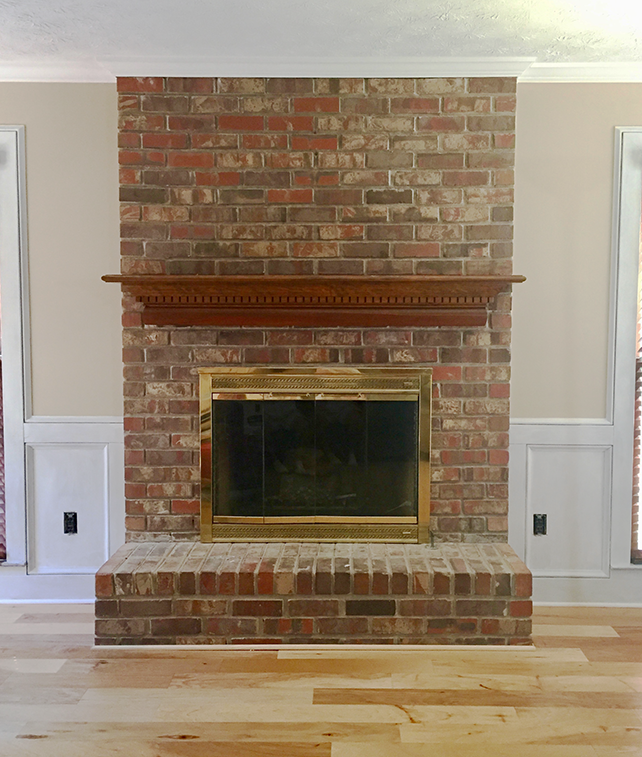 Getting Ready to Whitewash a Brick Fireplace
Remove mantle…easier said than done. Our mantle was a bit time-consuming to release from the brick because we wanted it to come off in one piece.
Remove trim around sides and base of brick fireplace
Use a firm bristle brush to clean brick surface to remove many years (in our case) of dust and dirt
Vacuum brick surface and also vacuum floor to make sure the bits of mortar are removed that could easily scratch hardwood floors.
Lay and tape down protective paper to keep paint off surrounding floor. Use painter's tape to cover edges of walls near sides of brick fireplace
Select your paint: I used Annie Sloan non-toxic chalk paint that is lead-free, EG-free, odor-free, and low VOC. I used 24 ounces Old Ochre diluted with water 50/50. Approximately $50.00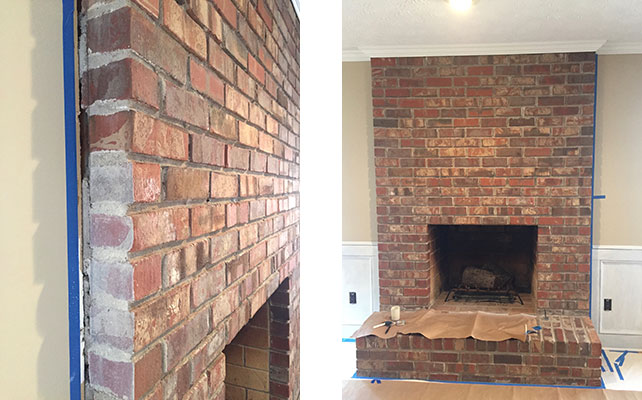 Whitewashing the Mortar and Brick…the process
The process started by using a small paintbrush to apply whitewash into the mortar but I quickly realized that approach would take forever and it was messy and dripped a lot. I then tried a 2-inch foam paintbrush on the bricks as well as on the mortar between the bricks. It worked better but it was important to not overload the sponge or the paint would run. I found that if the paint runs onto the brick below it is difficult to remove all of it. The goal is to evenly apply the paint wash to avoid "drips and runs" that can be seen later once the paint has dried.
Once the mortar around the brick was painted (actually dabbed), I then wiped the face of the brick with the 2" foam brush so it would be evenly covered with the wash. After 30 seconds or so I lightly wiped off the excess wash. Repeat if you want a lighter look.

Was it Worth it to Spend the Extra Time?
It did take longer to be careful with the drips but I think it was worth it. The bricks in our fireplace had a lot of color variation ranging from red, cream, taupe, brown, and dark gray. I was able to control the look of each brick and have a more customized white wash job. By covering the dark red in the bricks but allowing the warm tones of cream, taupe, brown and gray to show, the fireplace looks more up to date and blends better with the lighter colors on the walls and in the furnishings.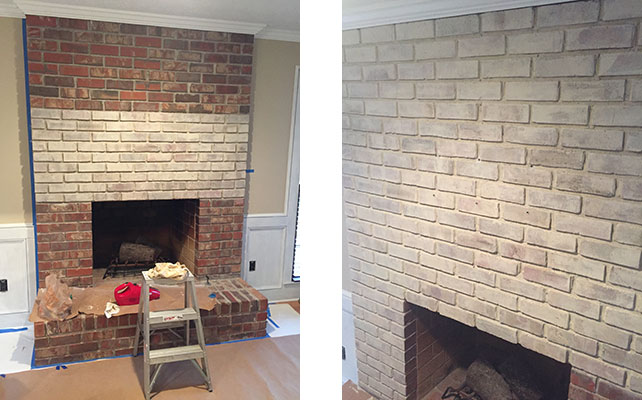 Hint: On my "favorite" bricks (cream, taupe and brown) I used a fine sandpaper to wipe away a bit more wash to reveal the muted original color. I left a heavier wash on the red bricks.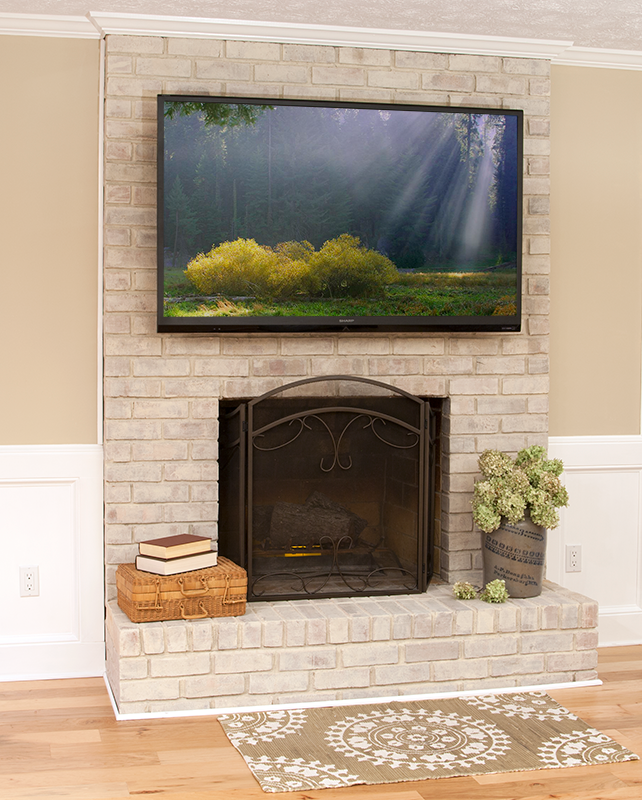 Cut to the Chase Directions
Sponge whitewash into mortar and dab excess with a rag– avoid paint runs on face of brick
Wipe sponge across each brick making sure not to let it run
Let it sit for 30 seconds or so, then lightly wipe with soft cloth
Evaluate how it looks based on what you are looking for
Add more wash if you want it whiter, wipe off more if you want more of brick base color to show through.